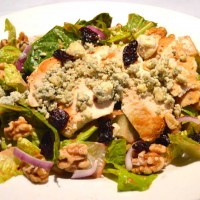 SOUPS & SALADS
4.49

Cup of Soup

White chicken chili - Chef special
7.99

Bowl of Soup

White chicken chili - Chef special
9.99

Caesar Salad

Romaine lettuce tossed with Bookies' caesar dressing and garlic croutons, topped with parmesan cheese. add chicken 3.
7.99

House

Mixed greens, cheese, red onion, tomato, cucumber, egg & garlic croutons.
add chicken 3.
---
STARTERS
Start off your Bookies experience with one of our famous appetizers.
12.59

Mile High Nachos

Tortilla chips piled high with seasoned ground beef, queso cheese, shredded lettuce, olives, sour cream, salsa, and jalapenos. Sub Chicken 14.59
add guacamole .99
Go WINGS

Traditional jumbo wings tossed in your choice of sauce, served with ranch or blue cheese and celery.
Sm-12.99 Lg-22.99
$6.99

Buffalo Fries

Half pound of fries topped with mixed cheese, buffalo, ranch, and chives.
Add Chicken 3
9.99

Cheese Sticks

Savory provolone cheese triple coated in garlic butter breading and fried to perfection. Served with your choice of dipping sauce.
7.59

Crispy Brussel

Fried brussel sprouts with balsamic glaze & parmesan cheese.
8.99

Pretzel Bites

Choice of salted bites or cinnamon sugar bites.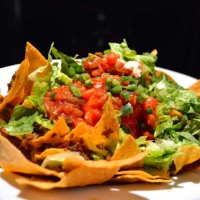 ---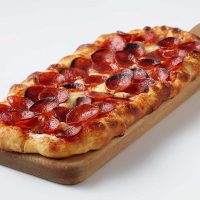 FLATBREADS
10.99

Pepperoni

Marinara, Wisconsin mozzarella, topped with pepperoni & sprinkled with Bookies' Italian spice mix.
---
ENTREES
16.99

Country Fried Steak

Breaded cube steak fried golden brown topped with white pepper mushroom gravy.
Served with garlic mash & crispy brussel sprouts.
10.99

Chicken Tender

Chicken tender with fries and diner roll. Served with BBQ or Ranch
14.99

BBQ Chicken

Chicken breasts glazed with BBQ sauce, Served with garlic mash & crispy brussel sprouts.
11.99

Fish & Chips

Bookies' battered white fish served with fries, coleslaw, dinner roll, lemon & side of tartar sauce.
9.99

Taco Plate

Four soft shell taco's served with Bookies' house made tortilla chips, sour cream, guacamole, & salsa.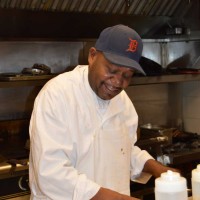 ---
---
BURGERS
Ask your server about menu items that are cooked to order. Consuming undercooked meats or eggs may increase your risk of food borne illness.
10.59

Build-A-Burger

Lettuce, tomato, red onion & pickles on a grilled bun. Served with french fries.
Patty Choice (pick one)

Beef (incl)
Chicken (incl)
Turkey (incl)
Plant Based Chicken (1.59)
Beyond Burger (2.59)
Bison (4.59)
Add On's

American or Pepper Jack Cheese (.50)
2 Slices Bacon (2.29)
Over Easy Egg (.79)
Honey Ham (.99)
Guacamole (.99)
Mushroom (.75)
Jalapenos (.75)
BBQ Sauce (.35)
1000 Island (.35)
---
WRAPS
Perfect food when your on the go!
$9.99

Grilled Chicken

Grilled chicken tossed in choice of Buffalo, BBQ, or sweet chili with lettuce & tomato.
Served with fries.
10.99

Turkey Club Wrap

Turkey, apple wood bacon, lettuce, tomato & mayo.
Served with fries.
9.99

BBQ Pork

Pulled pork smothered in sweet BBQ topped with slaw & pickles, on a grilled bun.
Served with fries.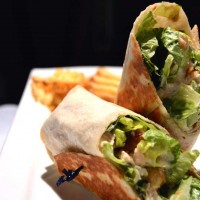 ---
DESSERTS
Don't forget the sweet ending to your day!
3.99

Mini Cheesecake Trio

A trio of caramel, blueberry & dark chocolate cheesecake bites.
3.99

Ice Cream Sundae

Classic ice cream sundae with vanilla icecream, choice of chocolate or caramel sauce topped with whipped cream, candied nuts & a cherry.
1.99

Two Scoops!

Two scoops of classic vanilla ice cream.
---
KIDS MENU
For are under 12 guest.
$6.99

Kid's Burgers

Two sliders, served with fries.
$6.99

Kid's Chicken Tenders

Two chicken tenders lightly fried, served with fries.
$6.99

Kid's Grilled Cheese

American cheese on Texas toast, served with fries.